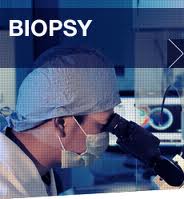 An endometrial biopsy is a procedure performed to obtain a small tissue sample from the lining of the uterus, called the endometrium. After the biopsy, the endometrial tissue is examined under a microscope to identify the presence of abnormal cells or the effects of hormones on the endometrium.
An endometrial biopsy may be performed for several reasons:

• In the evaluation and treatment of infertility (the inability to conceive) a biopsy of endometrial cells several days before menstruation can show the endometrial response to the hormones estrogen and progesterone and can determine if ovulation has occurred.
• An endometrial biopsy may be recommended for women with abnormal menstrual bleeding, bleeding after menopause or absence of uterine bleeding. Biopsy results may indicate cell changes related to hormone levels or the presence of abnormal tissues such as fibroids or polyps, which can lead to abnormal bleeding.
• An endometrial biopsy may also be used to check the effects of hormone replacement therapy or to detect the presence of abnormal cells or cancer. Endometrial cancer is the most common cancer of the female reproductive organs. If you have been told that you need an endometrial biopsy, call us. Our staff is well trained and experienced in endometrial biopsies and we will be glad to help you.